My goal for September was to complete my stack of UFOs. I didn't manage to level it, but I did make some serious progress.
Above is my Lion in a Square quilt which I designed and made for a class, Beyond Beginning Quilting: Flying Geese, which I will be teaching at JP Knit and Stitch in November and December. I just made this quilt a couple of weeks ago, so it wasn't even in the UFO pile!
Here's a gallery of the projects I completed in September. Click on the photo below to scroll through the photos. There are 7 projects in this gallery.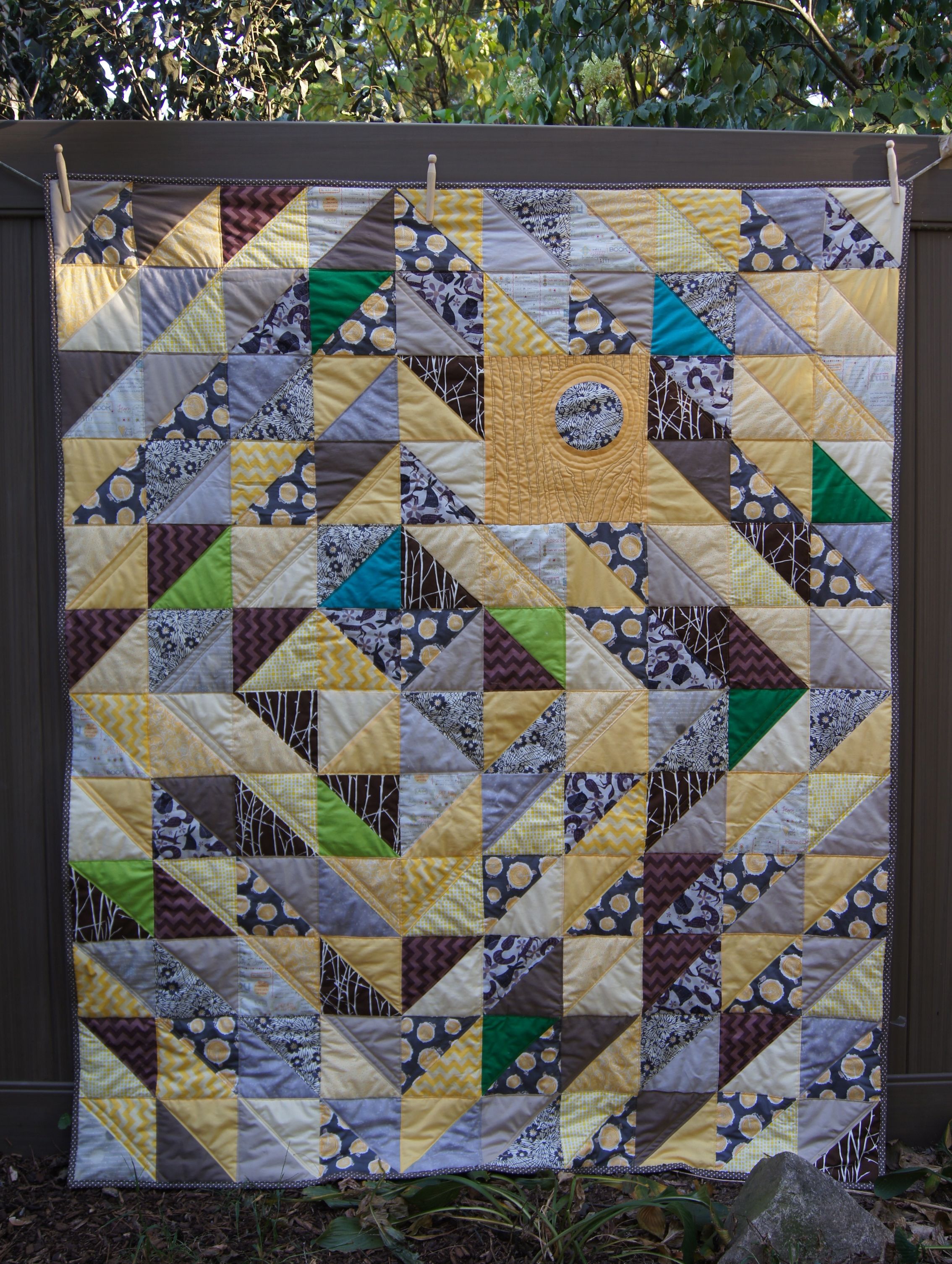 The rug is knit from selvages. I had two large balls of cut selvages, probably about 4-5 inches in diameter when I started. I was amazed to see some green fabric from my farm quilt which I made in September 2 years ago at the end of one of the balls! The instructions to make this knitted selvage rug are in Nyberg and Arkinson's book, Sunday Morning Quilts. (See the Suggested Reading list).
Note to the Selvage People: Don't panic. I do save the amazing selvages for special projects. Not all selvages end up in the balls saved up for rugs! But honestly, not every selvage is exciting. And knitted rugs are a fun way to recycle them.
The Apple quilt is waiting on a date with a Long Arm and the Vintage Modern Quilt is in the process of being quilted on my DSM.
I'm happy with with I accomplished this September. I hadn't really expected to totally level my pile of UFOs.
Blog Note: Last week ago I told you that I was cutting back from 3 posts a week to 2 days a week. I wasn't sure which days I was going to pick. My plan at the moment is to post on Mondays and Thursdays. If you've subscribed, you'll always get an e-mail whenever I add a new post.
If you haven't subscribed but would like to, click the word Subscribe at the top of the page. You won't get any junk mail from me, just a notice at 5PM on the days when I've added a new post! I hope you'll join the fun!